Nonprofit WordPress Themes

WordPress non-profit themes makes it possible for organizations with a minimal budget to build an impressive and professional online presence with minimal effort.
In fact, WordPress not only is one of the cheapest and fastest ways to get started; its background in the blogging space makes it one of the top most effective and user-friendly platforms for publishing content online. Limited technical skills is needed and WordPress is easy to learn and set up.
For non-profit and charity organizations WordPress is a great option to get a modern and professional online presence with the right look and fell and functionality needed. Some of the commonly asked for features for non-profit websites is the ability to set up an online fundraising program, inform about events and news. Try to check out some of the best Non-profit WordPress themes I have collected for you below and see for yourself. The availability of themes in this category is not as overwhelming as we experience in general with WordPress, however, there are some very interesting options to choose from.
If what you are looking for is not found here, check out some simple WordPress themes as they are typically easier to adjust to your needs than very busy themes. In addition, you need to keep in mind that mobile is growing and here to stay. Some of the layout below are responsive and prepared to look nice even on small mobile devices. However if this is a priority for you to go responsive, it is a good idea to have a look at a larger collection of responsive WordPress themes before making up your mind.
Be Human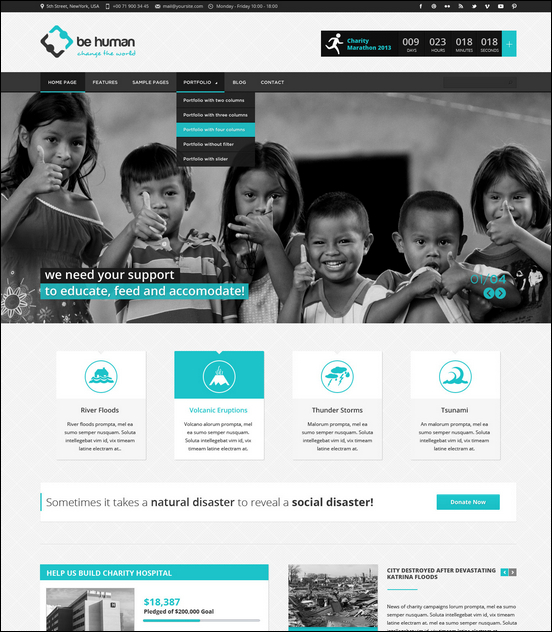 Be human is a non-profit theme for WordPress aimed at charity organizations with a need for a profession online presence. The theme is fully responsive and will look great on mobile devices. Be human supports crowd funding using IgnitionDeck and it also supports WooCommerce which means you can set up a professional shop. As part of the package you also get a Facebook Fan Page design to grow your social following. There is also a event management function in the theme and a lot more cool features.
Mission
Mission is a WordPress template for building a charity and foundation website. This theme includes a set of custom post types such as Cause, Event and Staff to help you create content on these categories and present this with special design. There are also custom page templates and widgets.
Glow
With its bright colors, bold text and flashy design, Glow is a great theme for anyone looking to make an impact. This theme comes with four color variations, and is equipped with the latest ePanel Theme Options page which gives you complete control over your blog.
The NonProfit Theme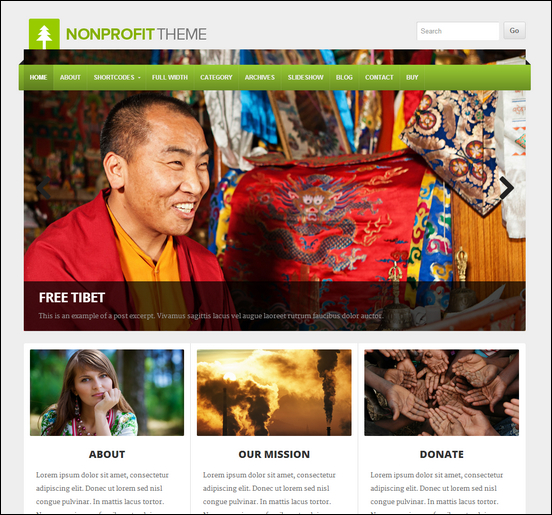 The NonProfit Theme is a responsive business style template designed with non-profit and environmentally conscious organizations in mind. The layout is reponsive and mobile friendly. The theme is WooCommerce ready and this means you can add an online store to the website. The NonProfit Theme also have custom page templates, featured slideshow, widgetized areas.
Nature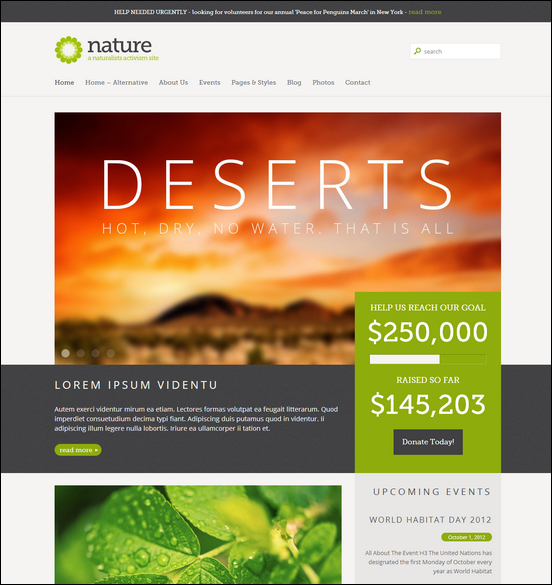 With Nature you get a clean and flat web design created specifically for charity and non-profit organizations. The theme includes useful functions for promoting a cause and for collecting donations. There are several custom post types, page templates, home page styles and a lot more.
Green Earth
Green Earth is designed building stunning websites to non-profit organizations that need environmental focused style. It comes with a custom slider feature, which allow you to manage slider functions easily. Green Earth also includes a powerful Page Builder allowing you to create pages by inserting page elements using drag-drop. You can also create unlimited sidebar, choosing over 450 fonts or if you want to use your own.
Go Green
Go Green is a theme for environmental focused organizations with minimalistic and clean design. The theme includes 4 slider options, shortcodes, unlimited portfolios and sidebars and much more.
Believe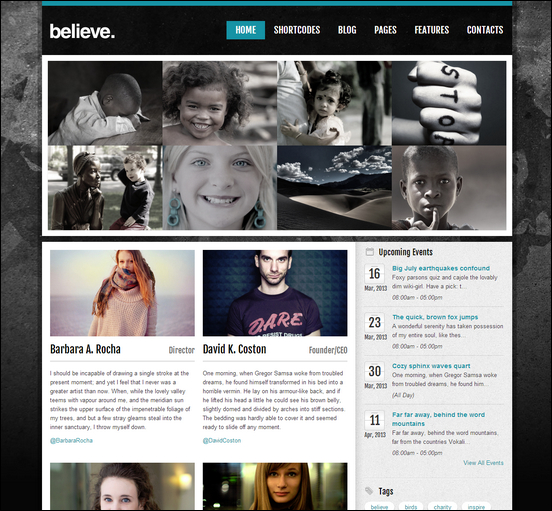 Believe is a theme for non-profit organizations with a need for a professional website offering effective online fundraising. The theme have a landing page builder where you can create promo page to promote a specific event, cause or the like. Believe also have a unique gallery function and you can also easily embed Youtube, DailyMotion Vimeo and self hosted video. There are several custom widgets and shortcodes available.
WP-Church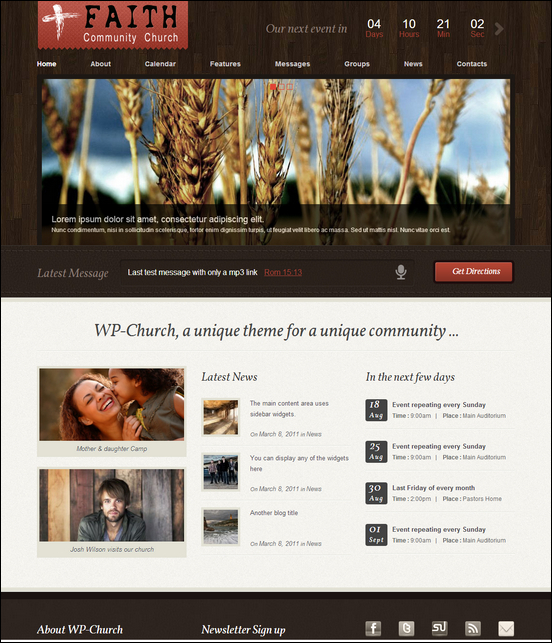 WP-Church is a theme designed for churches and it includes a calendar, mp3 player, automatic scripture finders, 8 custom widgets and image galleries
InCare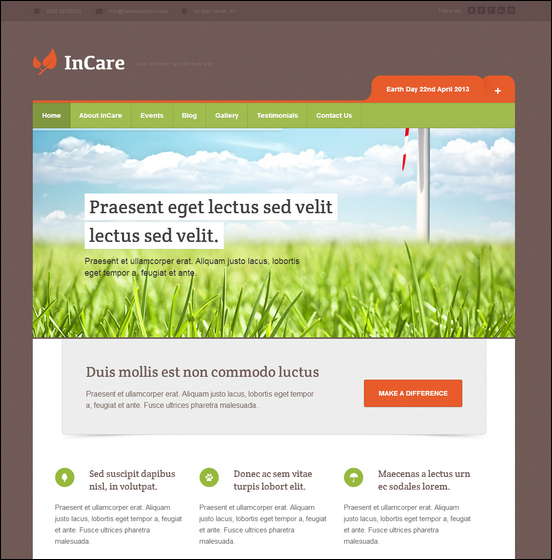 With InCare you have the opportunity to get a business style WordPress theme with a non-profit and environmental/eco focused design. The theme is well-suited for a non-profit organization, environmental, recycling, community or nature oriented websites. InCare is flexible and includes page templates, custom post types, shortcodes and so on to help you set up a unique look and feel.
Give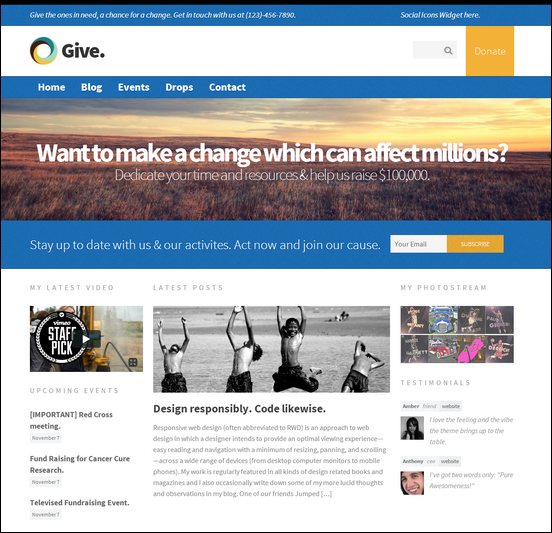 Give is Charity & NGO oriented WordPress theme, featuring a responsive design & focus on content & events. It is an extremely versatile and a rock-solid foundation to build upon.
Advocate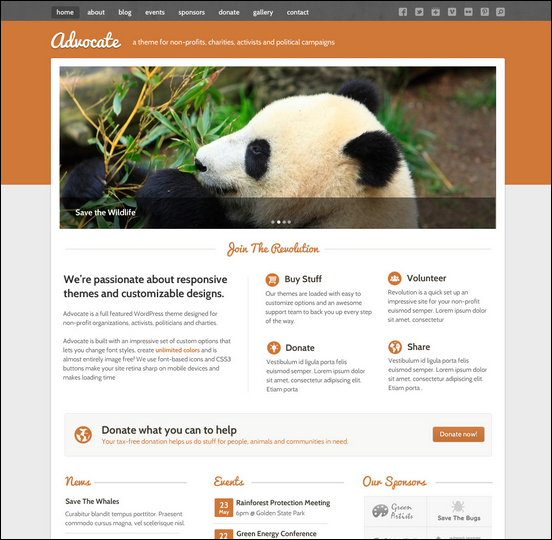 With Advocate you get a responsive WordPress theme that have been design for nonprofits, charities, activists and political campaigns. The theme allows you to easily display your events, news, sponsors and programs, and making it easy for users to donate to and learn more about your cause. Advocate includes some unique features such as a donation page, custom events calendar, sponsors areas and various gallery and portfolio layouts.
Charitas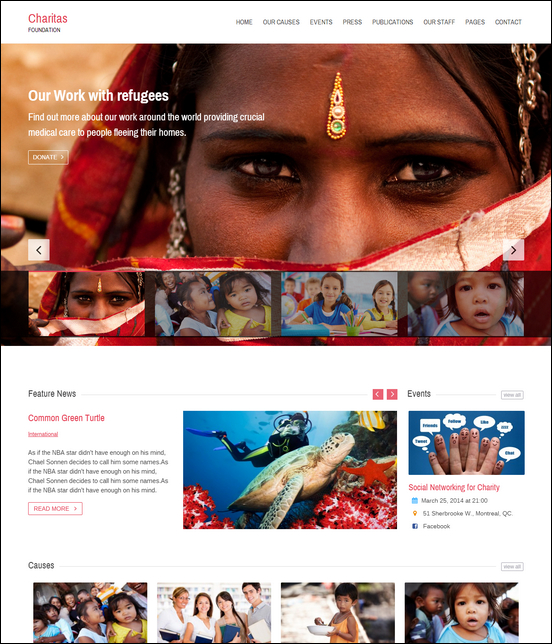 Charitas is a WordPress template designed for Charity, NGO and Foundations to help them get online with a professional website. The theme comes with a responsive layout and adapts well to screensizes on desktop, tablet, mobile phones. Charitas is prepared for accepting donations through the integration with PayPal. The donate function includes a cool progress bar to increase the visitors's incentive for donating. The theme also includes custom widgets, post types, a slider and more cool features.
DonateNow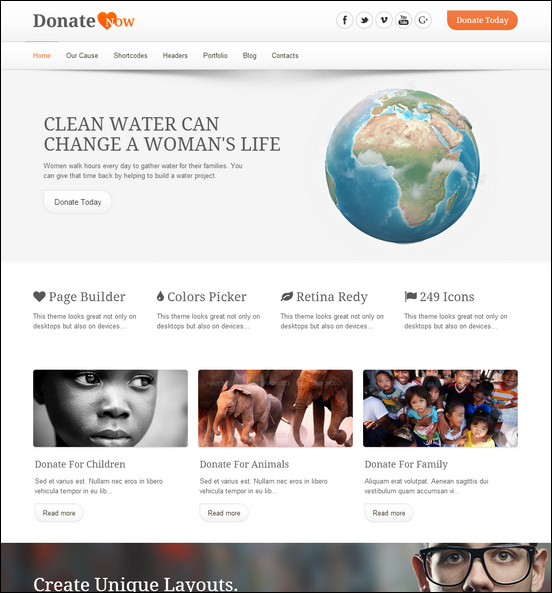 DonateNow is a responsive theme with a is clean responsive design. It is well suited for NGOs and charity organizations and have a cool built in features to accept donations online. There is also a feature to show collected funds as a progress bar. DonateNow have a minimalistic design and templates for blog, portfolio, contact page and it also includes several shortcodes.
Animal Care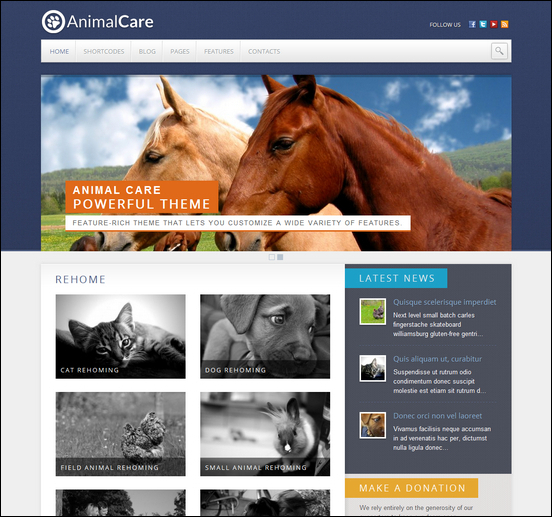 Animal Care is a business portfolio style theme for WordPress designed to feature photos really well. The theme can be used for most organizations if the animal photos are replaced. The theme suits non-profits well and the shortcodes, custom widgets and post types makes it a flexible choice.
Calvary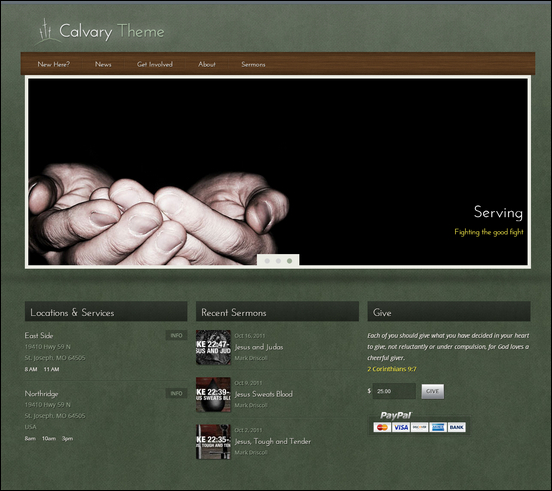 This is among the three free church WordPress themes offered by ChurchThemes.net. Calvary is made with earth tones and clean textures. There are 3 columns and footer for all your social network links. Clearly one of the well designed free church website templates.
Earth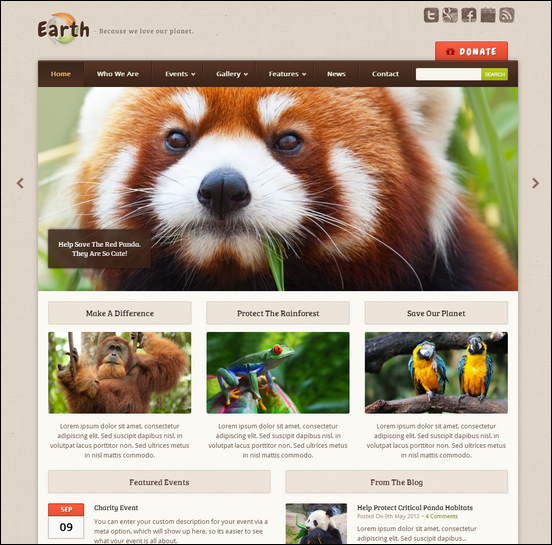 Earth is a premium WordPress theme created with Environmental/Eco-Friendly websites in mind. It's the great solution for all types of business and non-profit organizations that want to add an earthy touch to their online presence. The Earth WordPress Theme comes with a built-in event post-type and event calendar, donate button in the header, a gallery post type and of course a full blog section, all of which are necessary for an awesome non-profit website.
Organic Web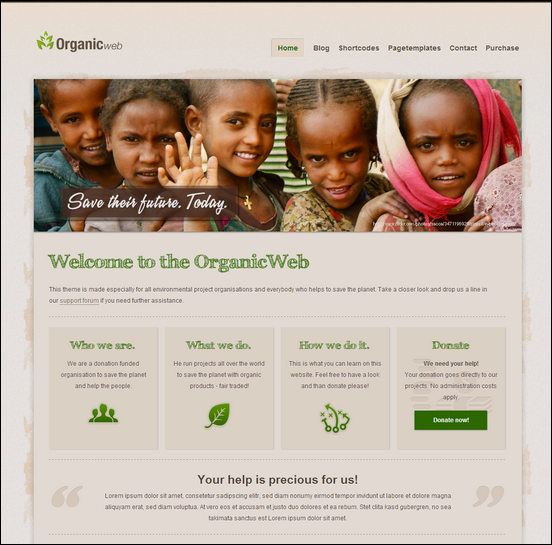 Organic Web is a eco style theme for non-profits and charity organizations. The theme comes with a reponsive layout and it is loaded with nice features such as cool slideshow design, multiple navigation designs, custom widgets, page templates, shortcodes and more.
Light of Peace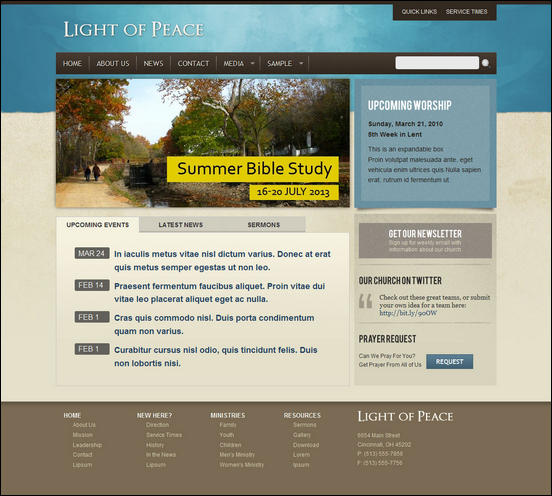 This is a church theme WordPress Template. Some people use it for wedding and non-profit website. There are four color scheme included in this template. This WordPress theme also has an admin panel.
WordPress Politico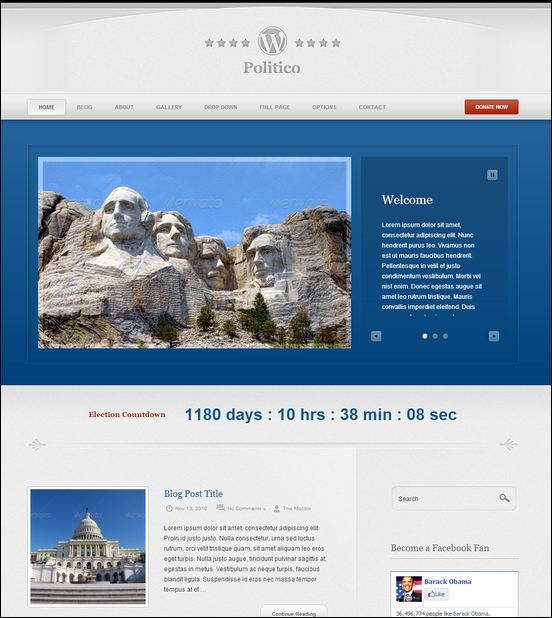 The FIRST political theme on Theme Forest! WordPress Politico is ideal for political campaign sites. The slideshow is great for drawing attention to important issues or promoting a candidate into office.
LightBright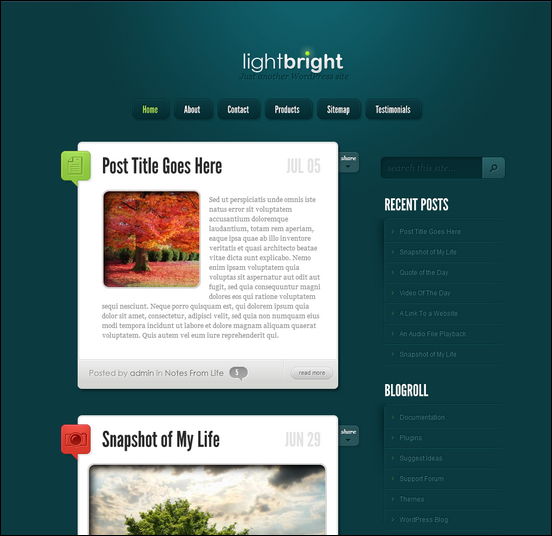 LightBright makes it easy to share your daily life through it's tumblr-style post types. Using the custom post types/taxonomies added in WordPress 3.0, the theme adds special integration options for photos, video, audio, quotes, notes and links. If you love the format of tumblr but don't want to give up the versatility of WordPress, this is the theme for you
Relief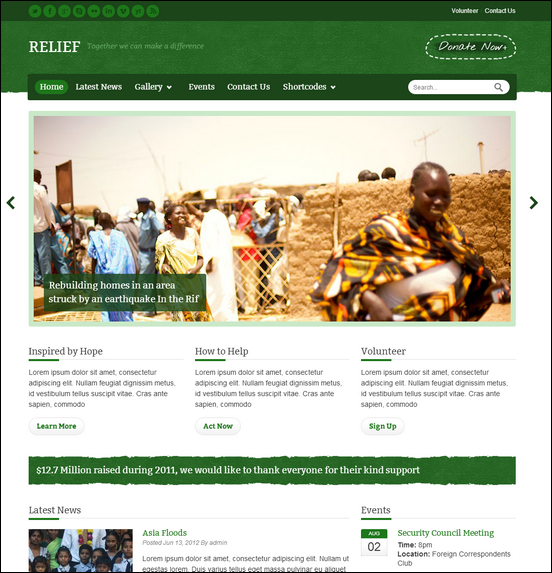 The Relief theme was designed with charity and other non-profit organizations in mind. The theme is highly configurable and comes with 5 color schemes. It is a responsive website template and it is ready to serve mobile users. There is a cool event management function included in Relief for communicating important dates and events.
Hover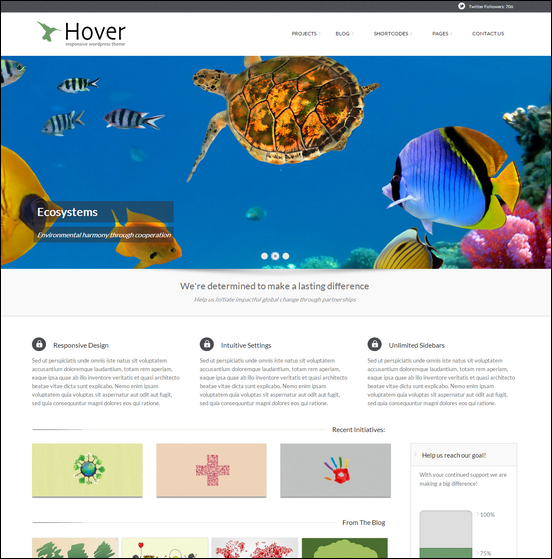 Hover is a clean and elegant WordPress theme that works well for non-profits and charity organizations. It is responsive and 1140 grid based. As part of the package you get unlimited sidebars, multiple blog layouts, galleries, shortcodes, Ajax contact forms and more.
WordPress Aid and Charity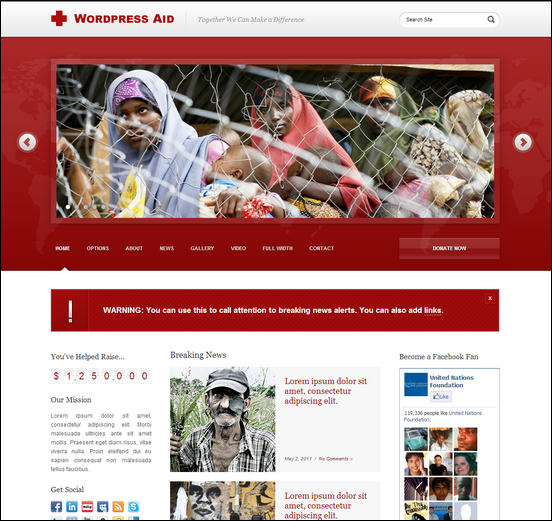 WordPress Aid is ideal for charity organizations. It's focused on raising funds for your charity and alerting visitors to important issues happening in the world.
Rescue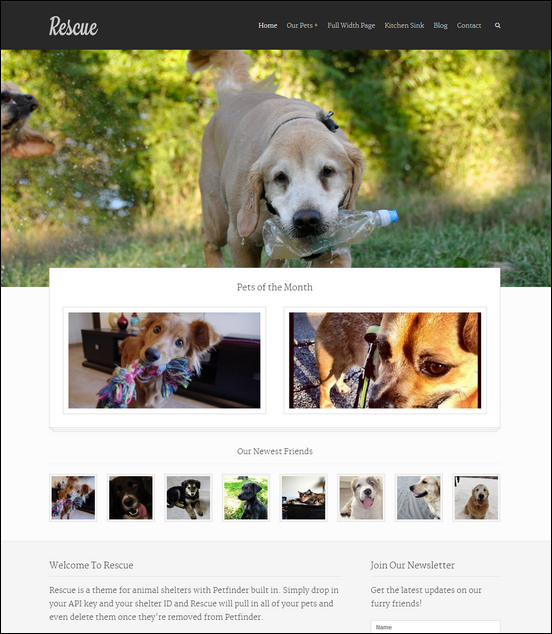 Rescue is a animal rescue website theme for WordPress with integration to the Petfinder service. The theme support the same animal types as Petfinder. In addition, Rescue includes useful custom widgets, jQuery slider, image lightbox. The theme is responsive and prepared for mobile visitors.
Kindness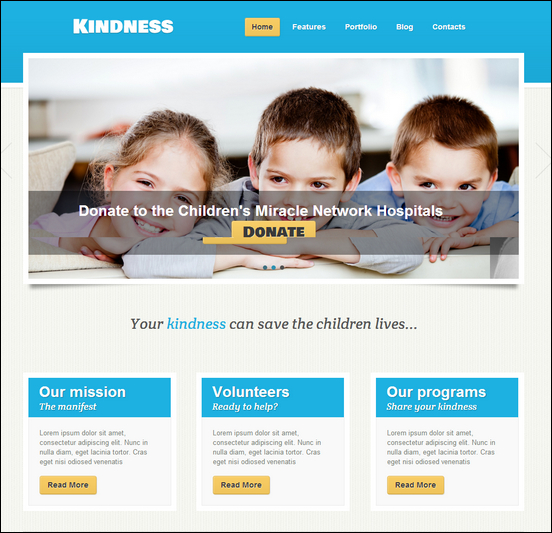 Kindness is a really cool WordPress non-profit theme with tons of useful features and a clean design. In this theme you get a reponsive design, a slider manager, a form builder, custom widgets, post types and a collection of shorcodes.
eNews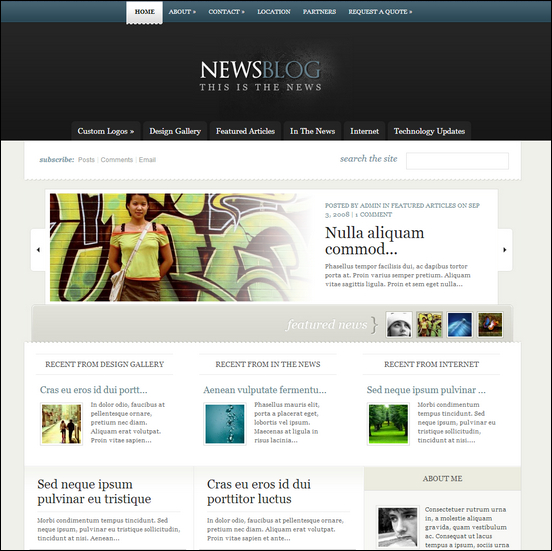 eNews is an exercise in crispness and subtlety. This elegant and professional news theme is great for anyone looking display a lot of content in a clean and user-friendly manner.